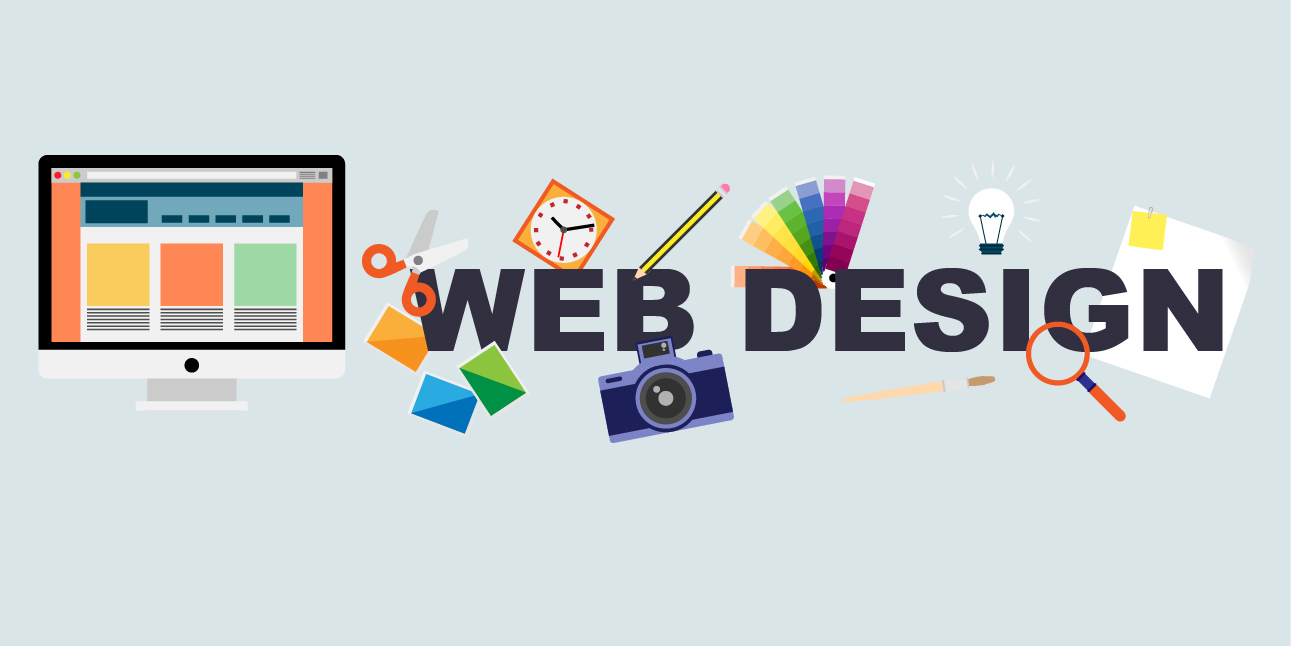 Web designing is the art and technology of designing websites. When you search for whatever you are looking for, you get the results which lead you to a website. The website and whatever pages of the website you are going to view is the work of web designer. A web designer designs the overall look and feel of a website. It includes many different elements like color, fonts, layout are the factors that create the vibe of the website.
 But a web designer also has to develop the behind the scene details of the website like how the website is going to function. A web designer needs to have an accurate idea of what your audience of website visitors find appealing.
Bright and vibrant colors, quirky illustrations and stylish fonts are appealing to a younger audience but the older and more mature audience like subtle and smooth designs and stylish fonts which are also easily readable. Visual and technical aspect of designing the website needs to get balanced according to the needs of a person or a business for which they are designing the website.
Who is Eligible for this Career?
You need the basic qualification of bachelor's degree in computer science, business or communications to start your career as a web designer. A degree in graphic arts with a focus on web designing would do too. You can get your certification either from an online college or an offline college.
While completing a typical bachelor's degree in web designing the basic curriculum would be:
Basic HTML
Web Content Writing
Image Design for Websites
Introduction Computer Systems
Strategic Digital and  Marketing
Networking Fundamentals
Graphic Design
Architecture Internet and Website
Animation
Cybersecurity
To get the employment for a web designer position, you will have to provide a professional portfolio of your work that should showcase the design process used by you to create websites. Focus on graphic arts and computer programming, along with various web designing software used by professional web designers if you are an undergraduate seeking for this profession.
Along with the degree in web designing and an amazing portfolio of your work, you need to be innovative and artistic. You need to have the special blend of artistic talent and technical understanding. Make sure that you are updated about the latest trends in web designing, and the new technologies being developed every day to design finest websites. A good web designer should be able to make a website that creates a brand identity among its audience as well as entertains them and leaves a lasting impression.
Scope of Web Designing in India
In this era of increasing internet users the scope for a web designing career in India is bright and prosperous. Millions of people are being reached daily through internet. To continue doing this a strong internet presence is necessary and the best way to do that is through a beautifully designed website. A qualified web designer can easily earn about 2 lacs in India with great chances of expanding their field of work to app development.
You'll get to work for some serious clients if you're working as a professional web designer in some reputed company and if you are a trainee, you are going to be put through extensive training by your seniors, which will help in your learning and enhance your skills.
Apart from IT and software industry, there is a huge demand for web designers in media and news organizations. Web designing is a prosperous choice of career in India that you are not going to regret. This is the reason why advertising agencies and educational institutes have a special requirements for web designers.
As regards career as web designer in Kolkata,. Kolkata is a metro and very old city  where there are  large number of  web design company in Kolkata. Where web designers are required at constant basis. So, if anyone learns web design course in Kolkata and thinks to get job in Kolkata, there will be no problem for that.
How web designing will benefit you?
It is important that you consider these before deciding whether it is truly the career for you or not. Just like any other profession, web designing too has its own pros and cons as a career option.
You can work like a freelancer
The best part about a web designing job is the fact that you don't have to be stuck in an office from 9-5. As a web designer one can work from anywhere as a freelancer. You can work from home, a library or a coffee shop as long as you have a good internet connection.
Ideal Job while staying at home
Many of us don't easily want to leave the comforts of the home; after all, home is where the heart is. This is why web designing is an ideal career for couch potatoes who'd rather stay at home than go to the office. Stay at home in your pajamas, and work on your laptop, no one is going to bother you about it.
Variety in work
If you are looking for a job that will always be interesting, then web designing is the career for you. No two projects are going to be similar; the variety of work is going to make sure that you stay entertained and interested forever.
A prosperous career
The Internet has already become a crucial part of everyday aspect of our life. Today whatever we are doing there is a website for that. Because of this importance, web designing is one of the career options that is going to have an increasing amount of importance and can promise you a bright future.
Instant Feedback
Once the website you designed is live, the number of visitors on that website is going to tell you instantly if your work was good enough or not. This instant feedback brings you instant work satisfaction and instant work satisfaction makes you want to do a better job.
What could be some risks that can come with this career?
Health risks
Web designing comes with its health risks. Long hours in front of a computer screen, or sitting on a chair can give you eye problems, back and neck problems, which can become long term illness. So make sure to take necessary precautions if these things are happening to you.
Need to stay updated
The competition is harsh and you constantly need to evolve yourself to stay on the lead. For that you need to upgrade yourself by attending any web design training institute that might  be offering web design course.The Internet is ever changing which means even after you've finished your official schooling, you are not done with studying. You need to stay updated with the latest internet trends, marketing, and web designing developments. So if you don't want to keep on learning, then this job is not for you.
Could be hectic
This is a very deadline-based work. Any and every project you are going to do is going to have its own deadline. And you have to meet those deadlines if you want to build up your reputation as a professional web designer. So sometimes you may have to put in some really long hours into your work. However, this can be avoided if you make up a work schedule and stick to it, making it easy for you to finish your work.
Some projects can be boring
Some projects may be more interesting than others. This is a hurdle faced by every web designer. You may find the project you are working on to be extremely boring. But that is just the part of work and you have to go through the dullness of it all to get to the interesting part.
Digital marketing is always changing
The market for web designing and digital marketing is always changing. Along with its audience and their preference, you have to keep up with these changing games of web designing trend, otherwise, your career can drown very easily.
Time management
If you think that you are only going to work on one project at one time, you are wrong. As a web designer, you have to balance multiple projects together and make sure all of them are being finished within the deadline. To do this you need serious multitasking abilities.
Where to learn?
Now that,  you  have learnt pros and cons  of  career as a web designer, now you might be wondering where to learn web design course.  Acesoftech Academy is a professional web design  training center in Kolkata which offers advanced and  Industrial web design course in Kolkata and all over India. Not only this, any one residing outside India also,, can learn this course.  They can do this online web design course.
---
Conclusion
So there you have it! If you're looking for an exciting career that is full of challenges and have that unique blend of artistic quality and technical understanding of things. Then web designing is the career for you! You don't need to find yourself a 9-5 office job because you can make big money right sitting at your home and also earn a name in web designing industry without putting in the real hard work.