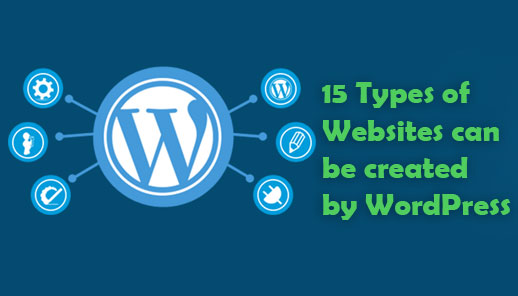 WordPress is a very popular Content Management System which is used to create various sorts of websites. Initially, WordPress was used to create blogging websites, but now many websites can be developed without learning any programming language. WordPress holds the first position in the Content Management System rankings. It has lots of features which make the process of creating a website much easy. A domain name and hosting provider is required to create a WordPress website.
Learn WordPress course in Kolkata.
This article will show 10 types of websites which can be created using WordPress.
1) Blogging Website:
The first kind of websites which can be created using WordPress is a blogging website. As mentioned above, WordPress was only used for creating simple blogging sites but it has evolved with the time. WordPress can help to create a personal website or blog website very easily.
2) Business Website:
Websites for business purpose can also be made by WordPress. Companies like The New Yorker, BBC America, The Official Star Wars Blog, Sony Music, MTV News, Microsoft News Centre, The Walt Disney Company, Vogue India, etc. are using WordPress to control their websites. The tools of WordPress helps to launch the website quickly.
3) E-Commerce Website:
WordPress powerful plugin architecture can create E-commerce websites as well. WordPress has the ability to create tough websites and convert any common blog or website into a well-developed online store. There are some free and popular e-commerce plugins in WordPress such as WP e-commerce, Easy Digital Downloads, WooCommerce, MarketPress and Jigshop which helps to start an online store.
4) Questions and Answers Websites:
WordPress can create questions and answers websites like Quora, Yahoo Answers, Stack Exchange, etc. Most of the WordPress plugins like multi-language, email notification, shortcodes or reCAPTCHA is supported. There are many tools available on WordPress which helps to create question and answers website very easily.
5) Job Board Websites:
Job board websites can be created using WordPress plugins such as Simple job board, WPJobBoard, Job Board Manager, Job Engine, WP Job Manager, etc. The users can directly post job listings to their sites. Here the employers can easily post a job listing and get responses from the professionals. Job board websites can be easily created, some sites like Problogger, Smashing Magazine are built using WordPress.
6) Non-profits and Religious Websites:
Not only commercial websites can be created but non-profit and religious websites can be created using WordPress because it is open-source and free to use it, which is perfect for this kind of organizations. Money can be raised by accepting Paypal donations and donate form can be added.
7) Portfolios Websites:
If anyone wants to create a website and showcase their work, then portfolios websites can also be created using WordPress. There are many plugins and themes which helps the photographers, web designer, comedian or architect to show their work by creating stunning sliders and wonderful image galleries on a portfolio website. In WordPress, there are more than 850 portfolio themes.
Enrol into WordPress training center in Kolkata. 
8) Online Communities Websites:
Websites for online communities can be created as well using WordPress. To add social features to the website's plugins such as BuddyPress is available and WordPress can be used as an online platform by using bbPress forum.
9) Multilingual Websites:
If anyone wants to build websites which support more than one language, then they make such kind of websites using WordPress. It supports multi-language for a business who has a global audience.
10) Websites like Wikipedia:
Sites like Wikipedia or the knowledge base can be created also. There are some useful plugins which will help to create these kinds of websites very quickly and different types of content can be managed easily. A theme like Flatbase which helps in creating a website.
Some popular WordPress plugins are as follows:
a) Simple TOC
b) Welcome WikiLite
c) Encyclopedia Lite
d) UserPress
e) WP Wiki User Profile
f) Pencil Wiki
g) Wiki Embed
h) Wiki Lite
11) Auction Website:
With the help of WordPress, a full-fledged website can be created for auction purpose where the clients can bid online, earn or make payment. eBay website is an example of WordPress.
Some of the best plugins for Auction websites are as follows:
a) YITH WooCommerce Auctions
b) Ultimate WordPress Auction
c) Auction Nudge 
d) WordPress Auctions Plugin
e) WP Auctions 
f) WooCommerce Simple Auctions
g) WordPress Automatic Plugin
h) WordPress WooCommerce Marketplace Auction Plugin
i) Woo Auction
12) Classified Add Websites:
In a WordPress blog or website, classified ads section can be easily added. Space for advertising or membership packs can be set in WordPress. Some classified plugins are as follows:
a) Another WordPress Classifieds
b) Classifieds
c) Sofa Front Post 
d) AWPCP Classifieds (Another WordPress Classifieds Plugins)
e) Classyfrieds
f) WP-Classified
g) roo! Framework
13) Affiliate Websites:
There are lots of affiliate marketing tools which helps in creating affiliate websites, from which anyone one can earn money as a commission by referring products or services to the users. Here are some popular plugins which are as follows:
a) ThirstyAffiliate
b) OptinMonster
c) WP RSS Aggregator
d) AffiliateWP
e) Pretty Links
f) Adsanity
g) MonsterInsights
h) Rel Nofollow Checkbox
i) EasyAzon
14) Schools and Colleges Websites:
Many schools and colleges websites are also created using WordPress because it can be managed easily and safe to use. Some of the popular and most used WordPress plugins are as follows:
a) WP Courseware
b) Flashcard
c) BuddyPress
d) Event Espresso 4 Decaf 
e) Google Drive Embedder
f) WPBakery Page Builder
g) WP Pagenavi
h) WordPress Download Manager
15) Real Estate Websites:
Websites for real estate purpose can also be created by WordPress. To build real estate websites there are lots of plugins and themes. Here are some popular plugins of WordPress which are as follows:
a) Real Estate Pro 
b) IMPress Listings
c) WP Amortization Calculator
d) Essential Real Estate
e) WP-Property
f) WPCasa
g) WPL Real Estate
h) BirchPress
i) Estatik
Conclusion:
As we have seen above that WordPress is no longer used for blogging sites and its powerful plugins and themes have given way to all sort of websites whether it is commercial, personal or non-profit organizations. Therefore, WordPress is very popular and offer many job opportunities. To become a WordPress expert, take WordPress training in Kolkata from the best WordPress training institute in Kolkata.