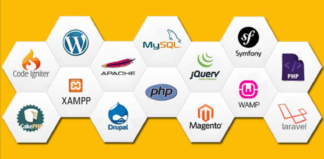 CMS or Content Management System is available in multiple variations for easily creating a website. Some CMS targets the customers who have the least understanding of code, but mostly it aims at the web owners who want to build a website faster and with easy maintenance.
As there are plenty of choices, choosing the perfect framework for yourself would be a little confusing. So, we have explored some essential criteria that you must remember while picking PHP CMS for you.
What is meant by CMS?
CMS helps you create a website and allow you to add feature and manage content by you and help you populate the website.
The developers put the web pages together using various technologies and languages such as HTML, PHP, ASR, CSS, or JavaScript. And the CMS also uses these frameworks, but a creator does need to understand them as the interface simplifies the stuff that goes down the 'Under the hood.'
But if you still want to explore coding for building a shop or blog for you, then CMS will help you through just dragging and dropping some essential elements in proper order.
Select the correct CMS platform
Okay, finally, you will select PHP CMS for your website, right? But wait, are you clear on how to choose one for you? For example, when you purchase a car, what do you see in it first? Its features, right? The same logic works over here too.
So, before picking a CMS platform to develop your website, you must check some features. Those are –
Data Portability
User Support
User-Friendliness
Design Templates
Optional Extras
Many CMS is free, but you may need to pay for templates or add-ons. And if you are not going to leave the website to the provider, you will be charged for hosting services. But thanks to the CMS, it never comes in that simpler and cheaper for the non-experts developers to develop their site on the web or off the website.
Now, keep the points mentioned above and choose the perfect one for you from our best 10 PHP CMS list.
1. WordPress
WordPress is the most popular and mostly used PHP CMS language. This can accommodate almost every app and attains enough flexibility to generate the various user scenarios. The largest e-commerce store provides the foundation for the basic blog, and you must keep your eyes on the 75 million active websites that confide in it.
Many developers had been benefited from this open-source framework, WordPress. That is why the language rises on the top preferred list. WordPress offers additional widgets, plug-ins, themes and is flexible to tailor and turn at any end.
Details:
Firstly, WordPress supports more than 68 languages
WordPress covers CMS' 76.4% of the market.
WordPress
powers several government websites.
1.48 billion Plug-ins have been installed yet.
Pros:
Secure to use
Accessible Platform
Mobilized SEO feature
Includes theme directories and largest plugin
WordPress can reach for Plesk hosting platform.
Cons:
The open-source is also open for hackers.
Plugins and themes ask for frequent updates
and the customization requires a profound response
2.Joomla
It has generated wide popularity for portfolio or blogging websites. Joomla provides high-quality elements for producing dynamic websites and influential blogs. Joomla meshes very well with some SQL versions, ensuring better database integration.
With only one click, this CMS can center the site's hosting provider and create a responsive website. It helps to add extra features to web apps through many extensions and designs. Joomla is popular among huge names, including Barnes & Noble, eBay, IKEA, etc.
Details:
6% of websites trust Joomla.
2 million counting and sites.
Supportive to more than 64 languages.
It offers free themes and plug-ins.
Pros:
Constant security updates
Intuitive UI
Very adaptable front-end
Attendance of Joomla extension for the Plesk hosting platform
Best for producing dynamic apps and blogs
Cons:
Not every module are for sale
Adding custom designs is harder for a non-developer
Proper modification is a must for some plug-ins
PHP CMS is not comparable to SEO
3.Drupal
The open-source PHP CMS is the most popular market, and Drupal is best for e-commerce stores. It was introduced to the market as only a message board, which soon became famous as one of the best PHP management systems.
Drupal's rich features allowed the developers to produce improved online stores as the language can build a modern app; that's why it gained wide popularity.
Details:
Drupal attains million of users
It covers more than 90 languages
It provides power to 1 million websites, including American government websites
To migrate Drupal 7 into 8 modules, Acquia spends almost a million dollars on it.
Pros:
Expandable platform
Frequent security updates
Drupal fully supports the eCommerce
Attracts more traffic
Cons:
Not for non-developers
Hard to download custom modules
Does not support blogs and other publications
4.ExpressionEngine
It is one of the best content management processes for websites required to manage vast content. ExpressionEngine's architecture is flexible for adding new functions, and customers straightly view the latest content.
Moreover, the CMS is versatile enough to work on every type of device, and it molds the content's format according to the device.
Details:
Pros:
Available custom edit forms, and it's easy to fill and navigate.
Excellent security
HTML agnostic template system
Well-integrated SEO
Cons:
Poor network support
3rd party plugins and add-ons are few
Struggle navigation or editing
5.OctoberCMS
This PHP CM is open-source and free, and OctoberCMS has built several company websites. It is simple, flexible, and always ready to offer retina-ready webs and apps.
It is an open-source CMS, and it can be downloaded to your hosting service. It interacts with other 3rd party apps and features with over 700 themes and plugins.
Details:
The ecosystem of themes & plugins
Risen on the Laravel framework
A wide community
Pros:
Extendable and versatile
Several plugins and themes
Free and open source
Cons:
Need of developer input to customize
6.PyroCMS
The Laravel framework authorizes PyroCMS, and it's one of the best PHP CMS. It is gaining impressive popularity as it concludes lightweight modular architecture and intuitive backend design. It has been designed for easy understanding.
Details:
Pros:
Simple to download and learn
Enough versatile
Accommodates the third-party APIs or apps
7.OpenCart
Here is another content management system based on PHP best for eCommerce websites. The PHP developers are openly allowed to include their updates. And its intuitive UI lets the users learn it with ease. OpenCart covers several languages at the same time.
Details:
Forum members above 95k
Powers more than 790k website
12k extensions
Pros:
Free themes
Easy to get started
Multiple extensions and modules
Cons:
Not friendly to SEO
Unable to handle web traffic
More customization is required
8.Craft CMS
This content management is new in the web market and popular among developers, and it is the easiest to use.
The users are blessed with Craft CMS as it allows them to build front ends. Craft CMS offers a clean backend; therefore, it became easy for the content editors to find the features they needed.
Details:
Publishing content is easy
Pros:
Highly functional
Commercial features
Performs well
Effective security
Lightweight
Developer-centric
Cons:
No open-source plugins
Pricey
9.TYPO3
This platform is one of the best PHP CMS available in the market. It supports several operating systems like OS/2, macOS, Windows, FreeBSD, and Linux. TYPO3 is best for powering large companies' eCommerce and portals. Sizeable community supports this CMS for any discussion and ongoing support.
It is flexible as the code and content are handled severally. More than 50 languages, or localization built-in. It is famous for its easy installation and user-friendly.
Details
Pros:
Enterprise-level
Sizeable community
Offers huge functions
Cons:
Very few entry-level training
Hard to manage
10. Magento
Magento was designed for the eCommerce apps, and now it has become the most demanded platform to produce online stores. Nike, Foxconn, Ford, etc., rely on Magento's eCommerce features to power their website. It made the shopping experience better with its rich design.
The security system is excellent uses hash algorithms and additional defenses for escaping attackers.
Details:
Lash algorithms for security
Pros:
It is accessible
Regularly updates extensions and plug-ins
Enough features for powering the eCommerce source
Cons:
Only supports dedicated hosting
High premium, supporting products are costly.